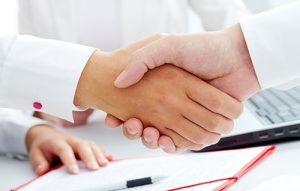 When business disputes arise, companies of all sizes turn to Callahan, Thompson Sherman & Caudill LLP's Business Litigation Practice Group. We guide our clients through the litigation process to best accomplish their goals. This may take place in Court or in some cases, depending upon the contract and the theory of liability it could take place in arbitration. We counsel our clients on the appropriate forum in all types of business litigation. We quickly investigate the matter and offer a road map to resolve the issue in the quickest, most cost-effective manner. It could be an immediate injunction to help businesses in legal actions against competitors who use unfair and illegal practices to gain a competitive edge. Or it could be a multimillion-dollar contract dispute to recover what your company is owed. No matter what the issues is, CTSC Law has the procedural skill and trial experience necessary to resolve the toughest cases.
Business Litigation has been a foundation of our legal practice since the firm began. Through our representation of hundreds of businesses we are mindful of the costs involved in litigating business matters. For that reason we have created unique fee arrangements to address that concern. In addition, the partner in charge of the case works with an associate who has been carefully trained in procedure, legal issues and negotiations. This way the costs and expenses of litigation are minimized by delegating certain tasks to the lowest cost personnel. Consequently, the client is not only pleased with the end result but also with the cost to achieve it.
Therefore, if your business has any disputes involving unfair competition, class actions, consumer fraud, shareholder litigation, employment litigation, wage and hours litigation, real estate litigation, trademark or copyright infringement, real estate litigation, fraud or any type of breach of contract matter check first with our firm as we can handle your matter efficiently in a manner that makes economic sense. In fact, some of our former opponents have realized that CTSClaw is the firm to go to as many of them have retained us to represent them in subsequent business matters.